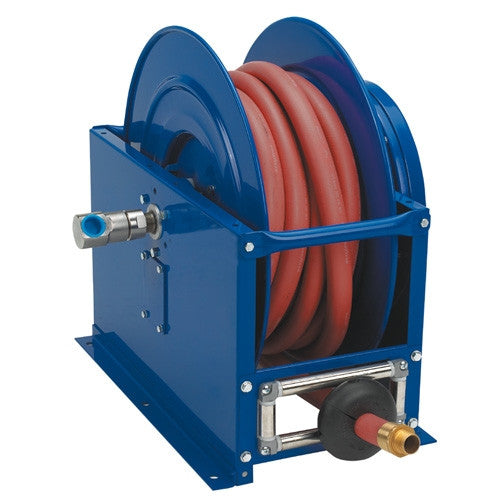 Description
COXREELS SP Series "Single Product Delivery" spring driven hose reels are built to handle large hose diameters. Used in applications demanding large volume delivery in low and medium pressures such as fuel and water. The sturdy box-style frame has heavy duty steel cross supports to all four corners for extra strength and rigidity.
Swivel
External fluid paths with machined from solid brass 90°
full-flow NPT swivel inlets
Swivel Seals: NITRILE (AFLAS on 1" models)
Electroless nickel plated steel swivel on 1" models
Straight in-line aluminum swivel on 1 1/2" models
Design & Structure
Reel features a sturdy box-style frame design
Reel adjusts to wall, floor, vehicle & overhead positions
Heavy gauge 1/4" steel base for maximum strength
Reinforced steel frame provides maximum strength & stability
Long lasting self-lubricated flange bearings for smooth rotation
Heavy duty 1" stainless steel pinch-proof rollers
Retraction
Enclosed factory tuned & matched cartridge-style spring motor
Non corrosive stainless steel pawl spring
Cast iron lock ring with non-sparking bronze pawl
Multi-position lock ratchet mechanism secures hose at desired length
Note
Due to the size or weight of the reels, shipping costs may not be accurate in the checkout screen. You may contact us for more information.